Exports
Exporting determines our business approach. Exports represents 90% of our production. We supply a wide network of clients around the world; we export to North America, Europe, Middle East and Asia.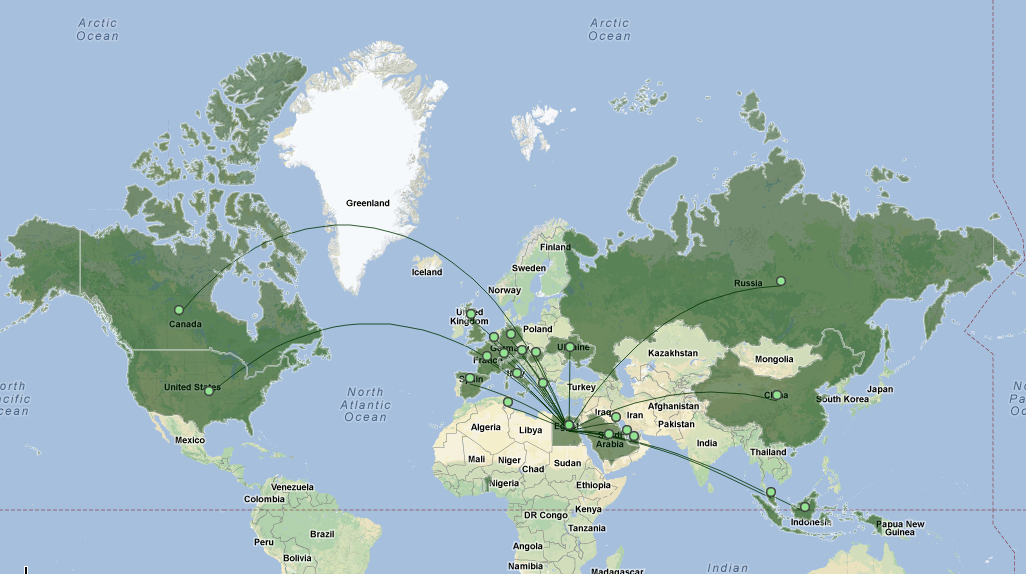 "At Arabian we not only export our products, but also our philosophy with regards to food, based on the Mediterranean diet and the excellent qualities of olives and olive oil. Our strict adherence to the highest standards of product quality, our respect to clients requirements, and our ability to quickly respond to clients needs, won us strong partnerships with clients around the world."
Managing Director, Arabian Co.
Our Exported Products:
Premium Quality Olives (whole, pitted, sliced): Green Queen in Brin, Green Queen "Spanish Style", Black Picqual, Black Manzanilla, Green Manzanilla, Kalamata, Black Oxidised
Extra Virgin Olive Oil : Acidity less than 0.8%,
Virgin Olive Oil : Acidity less than 2%
We produce to our clients according to their specifications. Our export experience enables us to guarantee that our products comply with the required specifications of each country regarding impeccable flavor and taste properties. We can serve any company in any part of the world at very competitive prices.
Packing:
We export our olives in plastic drums and our oil in flexitanks and drums. We own bottling and packing facilities. This enables us to export in other packing forms upon client request. We can produce for our clients under private labels in any language.
Quality:
We are driven by quality. We strive for it everywhere. And we never compromise on the quality of our raw materials, our products, our packaging, our customer service, or our production methods.
Arabian Co. guarantees the premium quality of its products through rigorous quality control and testing at every step of production.
Our products are made to the most stringent international standards.
Arabian Co. is certified by ISO 22000:2005 and ISO 9001: 2008
The Company strictly follows the standard of the International Council for Olive Oil (I.C.O.O.)
FOR OLIVE OIL: COI / T.15 / NC.NO.2/98
FOR TABLE OLIVES : COI / T/ OT/ DOC.NO.15/ 81